event
Davao's Honesty Jeep during Covid19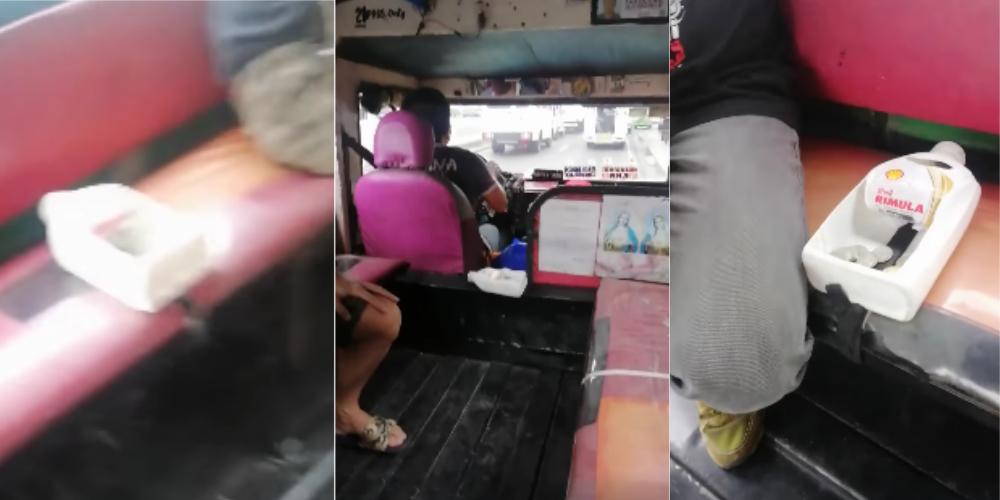 www.gmanetwork.com
Many may have heard of the honesty system that is practiced in many establishments like coffee houses and souvenir shops in many countries, including the Philippines. In this system, everything is done through self-service. Customers can list down the items they are buying, leave the corresponding payment, and take their goods. They even collect their change by just getting it from the pool of money.
A different kind of honesty system, which became particularly useful in these adverse times, was the "honesty jeepney" that plied the streets of Davao City before an enhanced community quarantine (ECQ) was implemented. Instead of the usual way of having jeepney passengers pass their payment, passengers of that certain jeep put their payment in containers that have been strategically placed and spaced out in the seats--in keeping with social distancing protocols.
On March 24,2020 a video went viral on the internet showed containers made of repurposed Shell Rimula engine oil plastic canisters were used not just to serve as dividers between passengers but to hold passengers' fares. In the video, a passenger was also heard jokingly say, "Bawal kumupit [Stealing is not allowed.]." During pre-ECQ times when social distancing was especially important and contact must be minimized especially in usually crowded public transport, the honesty system in
that jeep had been useful in ensuring that people were safe from coronavirus infection, even in public transportation.
Because of strict social distancing rules, only six to 10 passengers were allowed at a time in jeepneys in Davao City. Jeepneys were still able to do their usual business in Davao City before an ECQ prevented them from operating last April 4.
Creativity amid adversity
Jefferson Camasin, the netizen who was able to capture the footage of the honesty jeepney, said that the driver was willing to risk losing profit just so his passengers could be safer and have less chances of catching the virus. Camasin said that he and his fellow passengers praised the driver and supported the jeepney's honesty system by paying the correct fare. Some of them even gave tips, knowing how difficult it was to earn a living that time when jeepney drivers can only ferry a few passengers at a time.